Chef Cat Kitten Chicken 800 Gr
9283
---
In stock, ready to ship

Inventory on the way
Product Details:
Chef Secco Kitten - chicken
Chef secco is a highly palatable food that satisfies even the most demanding palates.
Complete food for kittens and cats in pregnancy and lactation
No preservatives and dyes added
Irresistible taste
No clinical testing on animals
Daily feeding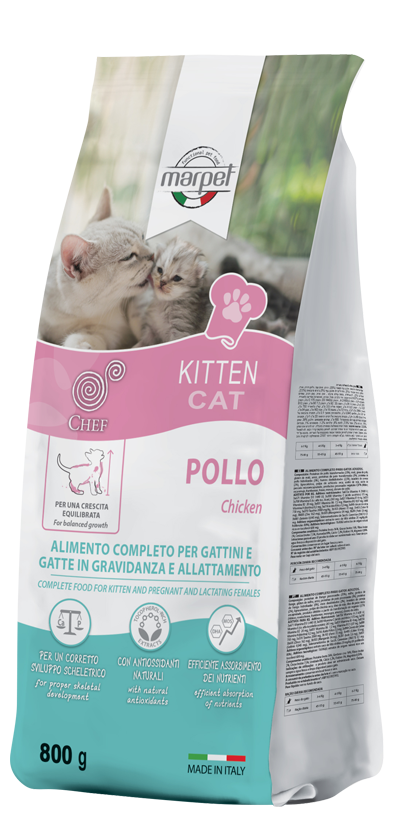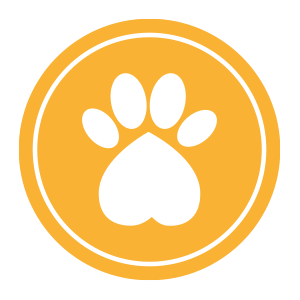 CRUELTY FREE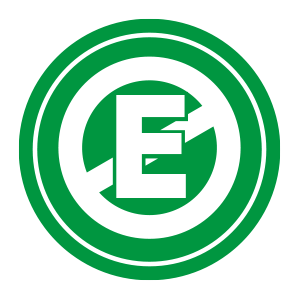 WITHOUT PRESERVATIVES AND DYES
Ingredients and characteristics
COMPLETE FOOD FOR KITTENS AND CATS IN PREGNANCY AND LACTATION.
COMPOSITION: processed chicken protein (30%), maize, chicken fat, maize gluten, fish meal (salmon 4%), hydrolysed chicken protein (4%) dehydrated eggs (2%), brewer's yeast (1.6%), hydrolysed fish protein (1.5%), soybean oil, dried chicory pulp, lignocellulose, micro encapsulated fish oil (0.5%), yeast products (0.4%, MOS 600 mg/kg), products obtained from the transformation of vegetables 0.056% (hibiscus, rose hips, raspberries, strawberries, blackberries).
ADDITIVES PER KG. Nutritional additives: 3a672a Vitamin A 24,000 IU, 3a671 Vitamin D3 1,600 IU, 3a300 Vitamin C (ascorbic acid) 175 mg, 3a700 Vitamin E (all-rac-alpha-tocopheryl acetate) 280 mg, 3a821 Vitamin B1 5 mg, 3a825ii Vitamin B2 20 mg, 3a831 Vitamin B6 8 mg, Vitamin B12 0.08 mg, 3a880 Vitamin H (biotin) 0.2 mg, 3a316 Folic Acid 4 mg, 3a890 Choline chloride 750 mg, 3a370 Taurine 2068 mg, 3a910 L-carnitine 150 mg, 3b103 (Iron 80 mg), 3b405 (Copper 20 mg), 3b605 (Zinc 180 mg), 3b503 (Manganese 60 mg), 3b201 (Iodine 4 mg), 3b801 (Selenium 0.05 mg), Seleniomethionine from Sacch. Cerevisiae (3b8.11) 0.1 mg. Organoleptic additives: dry extract of Sylibum marianum/milk thistle 64 mg/kg (tit. silybin 65%), dry extract of Vitis vinifera 16 mg/kg (tit. polyphenols 80%). Technological additives: 1b306(ii) extracts of natural origin rich in tocopherol 480 mg.
ANALYTICAL CONSTITUENTS: crude protein 36%, crude fat 19%, Crude fibre 2%, crude ash 7.5%, moisture 8%, calcium 1.5%, phosphorus 1.1%; omega 3 fatty acids 0.65%, DHA 0.17%, magnesium 0.09%.
Formats
Ration
KITTEN WEIGHT
0.5 kg
1 kg
2 kg
3 kg
4 kg
5 kg
AGE IN MONTHS
1
2-3
4-5
6-7
8-9
10-12

DAILY RATION

30-35 g
45-55 g
55-65 g
65-75 g
75-80 g
80-95 g
WEIGHT OF CATS
3-4 kg in pregnancy
3-4 kg in pregnancy
6-8 kg in pregnancy
6-8 kg in pregnancy

Breastfeeding

Breastfeeding
DAILY RATION
60-80 g
60-80 g
90-100 gr
90-100 gr
Ad libitum